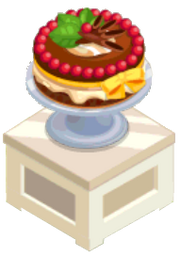 Chocolate Cherry Trifle is a cake that you can cook on a Oven.
(*) Introduced Christmas 2011.
Specifications
To make Chocolate Cherry Trifle you will need 4.620 coins. One batch makes 2.125 servings. It takes 8 hours to make one batch. Each batch rewards you with 89 experience. You will receive 4 coins per plate or 8.500 coins when you have sold the entire batch. Your profit on this recipe will be 3.880.